SKS BLUEMELS 20″ MUDGUARD SET
$69.95
In Stock: 1 available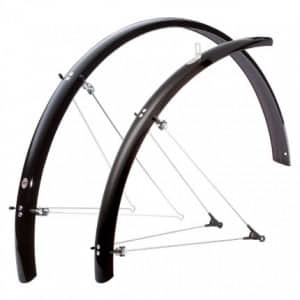 A great set of mudguards that are also suitable for Dahon 20 inch bikes. Produced in CAB plastic these mudguards are resistant to corrosion and ultra violet radiation. They are also very flexible and hard to break.
Top Features of the SKS Bluemels 20 Inch Mudguard Set
Suitable to fit Dahon 20″ bikes
20″ x 42mm fitment
CAB construction
Stainless steel 3.0mm stays and front fork crown fitting
ASR joint clips ensure the front stays are safely fitted
About the SKS brand
SKS is best known in the UK for Chromoplastic and Bluemels full length mudguards. Chromoplastics are the benchmark for top quality with Secu clip release systems, flexibility and elegance. More recently SKS has produced the versatile road Race Blade series of clip-on guards and a wide range of clip-on MTB guards.