Mountain biking is fast paced, blood pumping, action-packed fun! And you don't need to be riding at a world-class level to enjoy it. All you need is a quality mountain bike, some basic safety gear, and a taste for adventure. If you've managed to get your hands on all of the above, here's where we reckon you should take them.
1. Ironbark Gully

Image from Australian Mountain Bike
If you're new to  Brisbane's mountain bike trails, Ironbark Gully commonly known as the "Samford Conservation Park", is the perfect place to start. It offers fantastic trails for entry-level riders, so you won't find any nasty surprises. It's located only a 30 minute drive from Brisbane CBD, in Samford. So, even if you've only got an hour or two on the weekend, chances are you can make it work!
Although some trails have a few hills, the mountain bike trails at Ironbark Gully are mostly labelled "green" meaning that they are rated as "easy." The Ironbark Circuit is just over a kilometre long and simple. Its trail flows in both directions and is essentially a peaceful bush ride not far from the heart of the city.
If you just want to go on a little family outing, Ironbark Gully is the place to go. It's a pleasant trail in the midst of nature, not too far from home, and don't forget to bring snacks along as there are picnic tables and toilets in case you want to sit down and enjoy the serenity.
2. Gap Creek in Mount Coot-Tha

Image from For the Riders
Located in the stunning D'Aguilar National Park, Gap Creek is better suited to riders with a little more experience . Its downhill runs, steep descents, and rocky outcrops are enough to challenge even the most experienced downhill riders.
The Gap Creek Reserve is located at only a 25 minute drive from the city, making it easy access and a great getaway for those of you looking for a close-by challenging ride. The reserve is made up of 23.5 kilometres of mountain bike fun. The bike trails aren't too long— they can vary between 750 metres and just over 2 kilometres; but just because they're short doesn't mean they're easy!
If you're keen on testing out the most intense track of the area, try the Pipeline track. it is entirely downhill and features a 180 degree wall-ride berm, log rollovers, and large drop-offs.
3. Bunyaville

Image from Bicycle Queensland
If you class yourself as confident and don't have a lot of time on your hands, Bunyaville is the perfect Brisbane mountain bike trail. For starters, it's just twenty minutes from the Brisbane CBD. And on top of that, it offers bike trails with enough complexity to keep things interesting, but not so much that you'll be holding on for dear life.
Bunyaville Conservation Park has 30 kilometres of mountain bike trails that are perfectly suited for pretty much all levels. Whether you're just looking for a getaway from the crowds and city life or just want to challenge yourself with some Black Diamond tracks, this is the place to be!
Make sure you grab your camera because the area has some beautiful lakes. So, you might as well throw in a refreshing swim and relax by the water while you're at it!
And to make it a day, head to Fish Lips for some quality seafood to recharge from all the daily activities, and go home with a happy belly.
4. Bayview Conservation Park

Image from MarathonMTB.com
A large proportion of Brisbane's mountain biking gurus have probably found themselves at Bayview Conservation Park at one point or another. And chances are, they remember it fondly! Bayview Conservation Park is located in the Redland Shire and has multiple access points, the main one being at German Church Road; alternatively, you can also access the area through Serpentine Creek Road Redland Bay near Cemetery Road or Days Road.
Unlike the previous tracks, Bayview is a 45 minute drive from Brisbane CBD, but it's definitely worth a visit due to the charming surrounding city.
The park is a collection of entry level to intermediate mountain biking and cross-country trails, making it the perfect destination to take the kids, or even just go for a relaxing weekend cruise.
The trails are also well prepared accidents, with each bike trail having a maintenance post, so you don't have to worry about anything except for bringing a good mood and your fully-energised self.
If mountain biking is your passion, you'll also be excited to know that there is a yearly event held at Bayview called the Bayview Blast, during the Queen's birthday long weekend.
5. Daisy Hill

Image from Bicycle Queensland
If you are chasing more than just the adrenaline-pumping downhill stretches, Daisy Hill might have what you're looking for. Daisy Hill is a popular destination for mountain biking due to its multi-level mountain bike tracks. It gives you the full outdoor experience, with diverse mountain bike trails, hikes, bushwalks, and nature. You might even see a koala—if you're lucky!
Some trails are more difficult than others so that if you're bored of animal watching along the promenade, you can go onto a more technical-based trail and challenge yourself.
Daisy Hill is only a short 20 minute drive from the city, but due to the multitude of bike tracks available, you're better off spending the day there. Additionally, there are new tracks being built such as the T4 Turning Japanese track—a fire track created to control bushfires.
6. Hidden Vale Adventure Park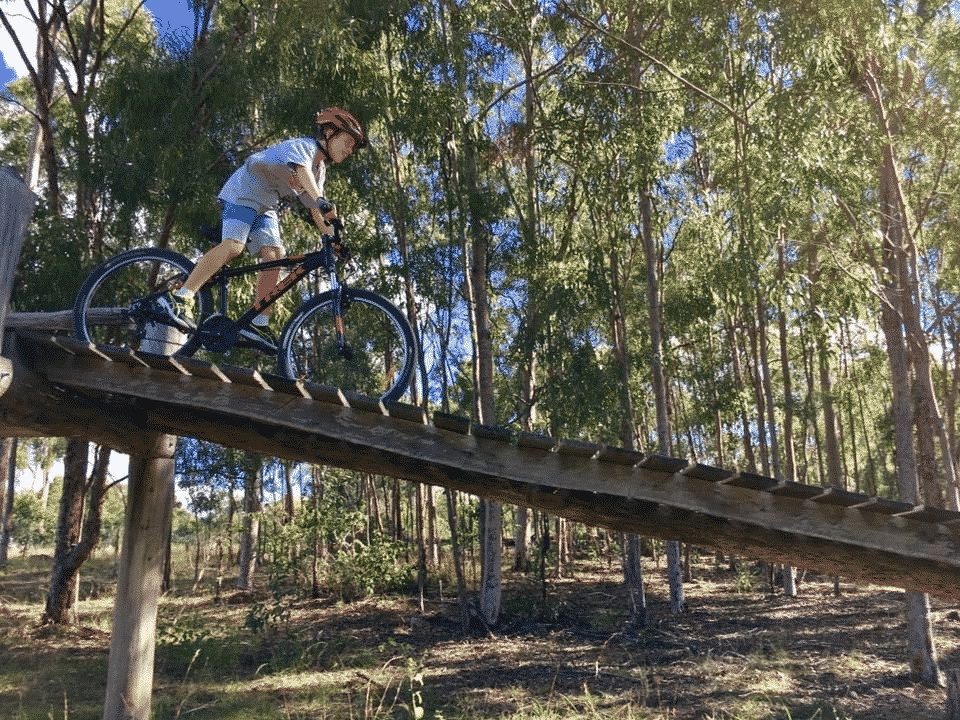 Image from WeekendNotes
It's hard to believe that there could be 50km of mountain bike trails within
an hour from Brisbane. Hidden Vale Adventure Park is a privately run adventure playground for those big kids among us who want to really push themselves. Needless to say, a weekend at Hidden Vale won't even scratch the surface!
This place is perfect for a weekend getaway where you and your friends or family can make the most of everything that's offered. If you're tired of mountain biking you can also hike or run; there's plenty of space – 12,000 acres of it!
Hidden Vale is the full package, not only can you bike, hike, and run there, but you can also rent out one of their eco-cabins or luxurious cottages and attend one of their all year-round mountain biking events. 
7. Lake Wyaralong

Image from Bicycle Queensland
If you like being amongst nature while you're ploughing down hillsides at adrenaline-pumping speeds, Lake Wyaralong is the place for you! It has some great trails and some even better campsites. So, if you've got a long weekend to spare, we recommend getting out there. If you're looking for a mountain bike track near Brisbane with an awesome scenery, don't wait one more second. The Mount Joyce Bike Trails located around Lake Wyaralong can be accessed via the Eastern Trail Access carpark. 
The drive is just over an hour, but it's well worth it if you've got a few days off. The trail features 25 kilometres event standard mountain bike tracks varying from the beginner Green to the Black Diamond Level. Each track requires different skills and puts you to the test.
Also, during a limited time, there is a shuttle service that can take you to the top of the mountain which is organised through a private company.
Mountain biking isn't the only activity available here though! The area also offers picnics, barbecues and playgrounds as well as water activities such as boating, rowing and fishing or on-land horse-riding and bushwalking. Basically, there's an activity for anyone to enjoy! 
8. Castlehill Trails – Ipswich

Image from Brakes Wide Open
Brisbane isn't the only destination for mountain bike trails in southeast Queensland – Ipswich has some rippers too. And among those, the Castlehill Trails would have to be our favourites. With all mountain and cross-country options, there's plenty to keep you busy.
These trails are located at a thirty-minute drive from Brisbane CBD and a five-minute drive from the Ipswich CBD. The trails range from a 300 metre to 1,100 metre length with a variety of Green, Blue and Black Diamond Tracks. While the easy and moderate range tracks are two-way, the difficult ones are one way only.
If you get tired of jumping, riding and doing tricks, feel free to walk around and explore the history of the coal mining industry featuring open mine tunnels, hand-dug mine shafts and relics of the imposing three storey Castle' which once towered over Blackstone. 
9. Cornubia Forest Park 

Image from Bicycle Queensland
Daisy Hill is generally the first choice for mountain bike riders looking for trails in Brisbane's southside. But if more people knew about Cornubia, that might be different. Cornubia is known for its well-maintained trails, and it's a great spot to get your confidence up.
Located at a half-hour south of Brisbane, Cornubia is a cross-country, city-managed
group of trails. It is easy access from either Kimberly Drive or alternatively through Sugarwood place or Boxer Avenue.
The trails are mostly dirt and rocky spanning 18 trails over 14 kilometres, and are suitable for intermediate to advanced riders. Cornubia is a park which you should try and hit sooner rather than later as its popularity keeps growing day by day!
If you're looking to spike up those sugar levels, ride to the Est Espresso Bar for a quick bite and some delicious coffee! 
10. Underwood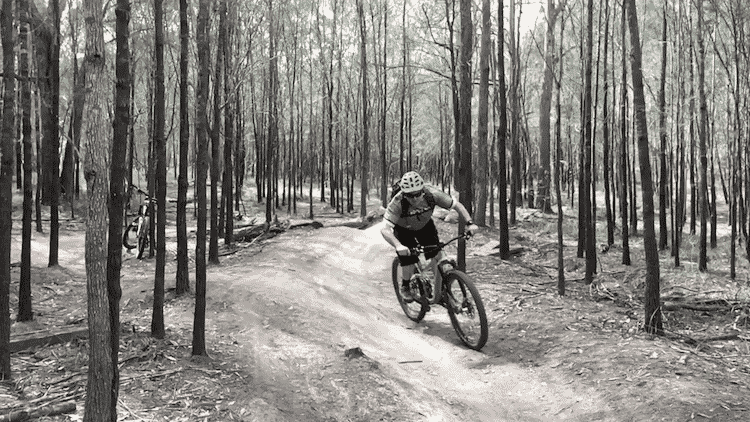 Image from YouTube
Speaking of confidence, Underwood offers some of the best entry level mountain bike
trails in Brisbane. Also located near Daisy Hill, it certainly warrants a look in at some point!
Due to its vicinity to Daisy Hill and Cornubia Forest Park, Underwood isn't as popular. However, if you want to brush up on your skills, the small park offers a good range of jumps and obstacles within a 7 -8-kilometre space. So, don't let the unpopularity of this track turn you off, but make the most of it because it'll most likely be less crowded. And if you're done working on your skills you can just go to Daisy Hills for a ride along the promenade!
Want to discover more awesome bike tracks? Check our comprehensive guide on the Best Bike Tracks In Brisbane.
References
Brisbane City Council, 2020, 

Mountain bike riding on Mt Coot-tha Trailforks, 2020

BQ Bicycle Queensland, 2020, 

Bunyaville Conservation Park Mountain Bike – Trails, 2015

City of Ipswich, 2020, Castle Hill Blackstone Reserve Mountain Bike Trails