Brisbane is blessed with a fantastic collection of bike paths, ranging from short and leisurely rides where you can feast on your surroundings, to exhausting slogs that'll push your fitness to the limit. There's something for every type of cyclist, and in this article, we'll explore the best Brisbane bike paths that our tremendous little city has to offer.
Inner city rides
West End to New Farm

Image from Concrete Playground
If you fancy giving your legs a work out, a riverside bike path runs all the way from West End to New Farm, covering about 10km. It starts at the West End Ferry terminal, and finishes at the southern end of the New Farm Boardwalk, passing through Brisbane's hottest tourist spots. You'll see Brisbane's cultural precinct (including the impressive GOMA and State Library buildings), the lush greenery of South Bank, the glorious city of Brisbane from various angles, the amazing floral diversity in the City Botanic Gardens, the newly-developed restaurants and cafes of Howard Smith Wharves, the New Farm Boardwalk itself, and much more. This is one of the greatest Brisbane bike paths for site-seeing.
There's also plenty of opportunities to refuel along the way—barbeque stops at South Bank, picnic opportunities at The Botanic Gardens or Howard Smith Wharves, a cup of coffee on the Goodwill Bridge, and much more.
The bike path has a little elevation, but nothing too difficult. The hardest part by far is the Goodwill Bridge that goes from South Bank to the edge of the Botanic Gardens, but if you're running out of steam you can always get off and walk.
The path can also get busy at certain points, particularly South Bank, the Goodwill Bridge, and the City Reach boardwalk that runs along the eastern perimeter of the city. There's also long stretches where you're sharing the path with pedestrians. But this path should be savoured, so you won't have any issues if you're going slowly.
If you need to hire a bicycle, this route has plenty of city cycle stations.
Brisbane bikeway map—West End to New Farm
Teneriffe Boardwalk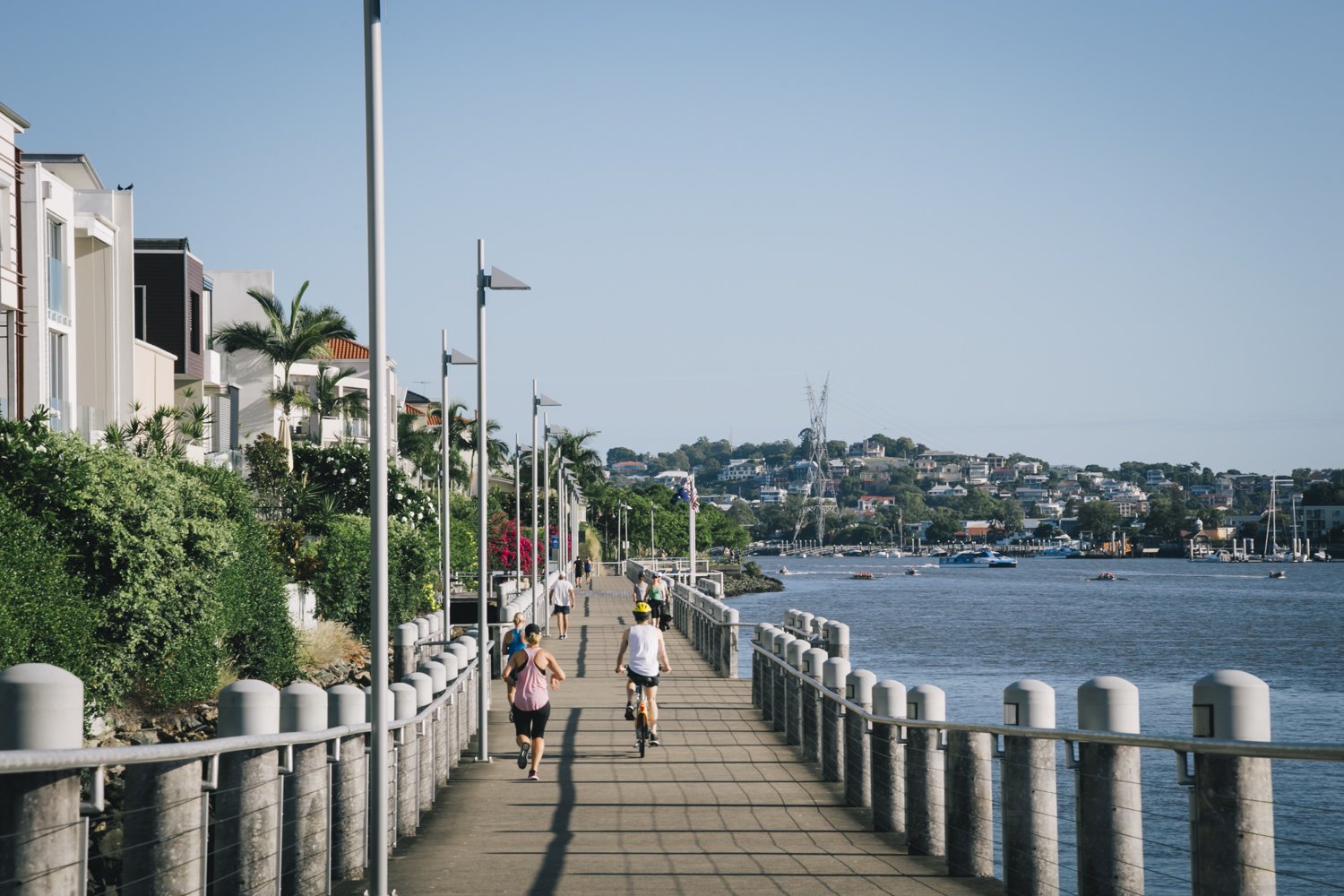 Image from Sitchu
Teneriffe's boardwalk is one of the most beautiful parts of the city, offering sublime views of Brisbane's glittering river. The boardwalk goes for roughly 2km, passing Teneriffe's historic wool production buildings, now converted into stylish apartments, and beset by swathes of trees and greenery. There's also the site of an old American World War II submarine base along the way, commemorated with submarine-shaped benches, and thoroughly explained with placards. If you fancy stopping for a drink, "Barko & Co" cafe is housed in a small red brick building that was once a servicing site for the submarine base.
This ride is flat, short, and perfect for those who fancy a casual ride without getting too sweaty. You can start at either the Teneriffe ferry terminal, or the New Farm Powerhouse.
New Farm Park is a great place to unwind after your ride, and if you can also catch the ferry to Kangaroo Point to continue your adventures. With so much packed into one small route, the Teneriffe Boardwalk is one of the best short bike rides in Brisbane.
There's no segregated bikeway path on this ride, so try to be cautious.
If you need to hire a bicycle, you'll find one on Commercial Road close to the Teneriffe Ferry, and another at Powerhouse Park.

Brisbane bikeway map—Teneriffe to New Farm
Kangaroo Point Bikeway

Image from Locationscout
The Kangaroo Point Bikeway provides a great experience for cycling in Brisbane. It comprises a riverside path that circles the entire peninsula of Kangaroo Point, starting at the Dockside Ferry Terminal, and ending at the Kangaroo Point cliffs. The ride is around 3km without hills, and provides some incredible views of the Story Bridge and city, particularly at night. And if you want to keep on going, the path continues through South Bank and West End, finishing at the West End Ferry terminal.
The bikeway includes plenty of places to stop for photos, as well as green spaces where you can kick back and relax. You'll need to share the path with pedestrians for some of the way, so it's best to go slowly.
If you need to grab a city cycle, there's a station at Kangaroo Point Cliffs Park, as well as a couple on the route. 
Brisbane bikeway map—Kangaroo Point Bikeway
Bicentennial Bikeway

Image from Martin Mergili
The Bicentennial Bikeway is a 2.7km path that sits beside the northern bank of the Brisbane river, running southwest from the foot of the Goodwill Bridge to Regatta Ferry Terminal in Toowong. It runs parallel to the city's main arterial roads, but is a distinct bike path that sits at the river's level, so you won't have to contend with any cars.
This route is one of the busiest of Brisbane's bikeways at peak hour, packed with commuting cyclists, but is otherwise a relatively quiet path with great views of the city, South Bank, and West End. There's a little elevation on certain parts of the route, but it's otherwise an easy ride. Because of the path's popularity with commuters, who have a tendency to cycle as though possessed, it's not suitable for kids.
There isn't much in the way of facilities along the way, so you'll want to pack water. brisbane bikeways

Brisbane bikeway map—Bicentennial Bikeway
Outer city rides
Manly & Wynnum Esplanade

Image from Chris Jack
If you're looking for a Brisbane cycling route that's away from the city, look no further than the Manly & Wynnum Esplanade ride. The route goes for about 4 kilometres along the coastline from Oyster Point in Wynnum, to the esplanade at Manly (continuing a few more kilometres south, if you're keen). This bayside bike-ride is one of the most open and spacious in Brisbane, providing gorgeous sea-views, and peppered with stopping places for a coffee or fresh juice. You'll also pass the seafront water park, a mini replica lighthouse that can be climbed, plenty of expensive yachts, and a plethora of pelicans. The Wynnum foreshore also has a salt-water pool, for cooling off after you've worked up a sweat. All of these bits makes the ride well-suited to kids.
As you'd expect from most esplanades, it can get a little busy at times, so you'll need to be cautious when riding along, despite the segregated paths for pedestrians and cyclists. Don't try to channel Lance Armstrong (for a number of reasons). Also be cautious of magpies, as somebody has reported an injury along the way.
The ride is about a 40 minute drive from the Brisbane CBD.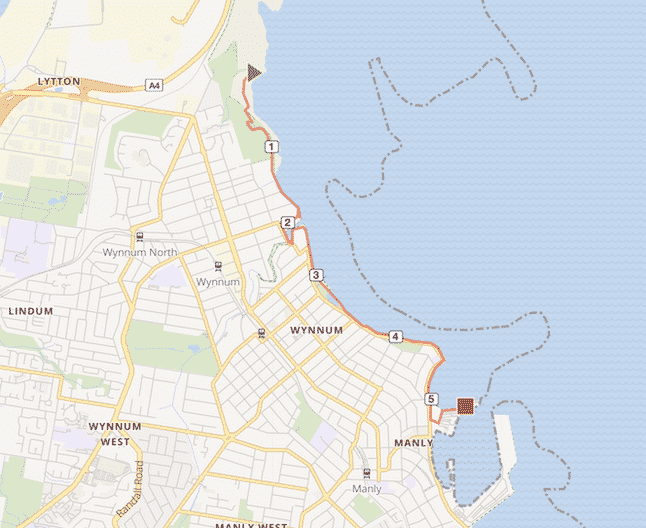 Brisbane bikeway map—Manly & Wynnum Esplanade
Boondall Wetlands Bikeway

Image from Bicycle Queensland
The Boondall Wetlands Bikeway runs seven to eight kilometres through marshland and woodland, offering a feast of flora and fauna—mangroves, waterholes, rainforest, and mudflats, brimming with kites, kestrels, ospreys, whimbrels, sandpipers, egrets, kingfishers, flying foxes, squirrel gliders, and more butterflies than you can shake a stick at. You'll want to factor in plenty of time to stop and observe the wildlife, and also be sure to stop at Anne Beasley's Lookout for an elevated view towards the coast. If you're keen to learn about the Boondall Wetlands's environment, there's a centre at the start of the trail that will teach you all about it.
This ride is well-shaded, quiet, and suitable for all ages, making it a great day out with the kids. You'll feel a world away from the urban sprawl of Brisbane.
The cycle path starts just before the Nudgee Waste Transfer Station, which is about a 30 minute drive from the Brisbane CBD. The path isn't segregated, so be cautious while riding.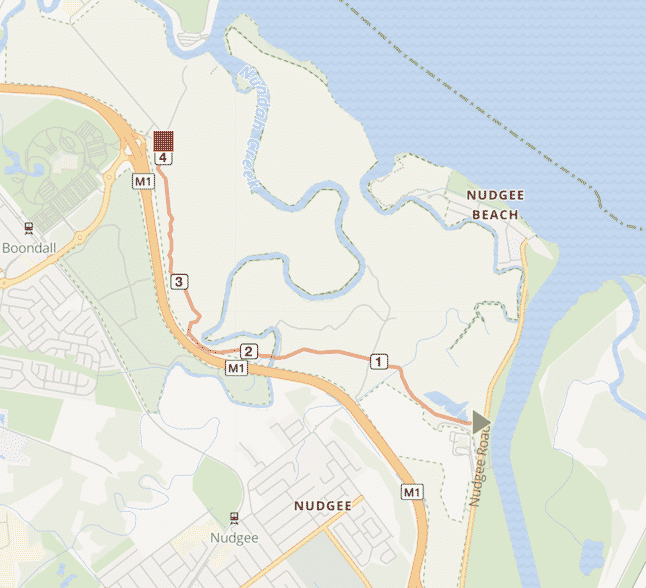 Brisbane bikeway map—Boondall Wetlands Bikeway
Moreton Bay Cycleway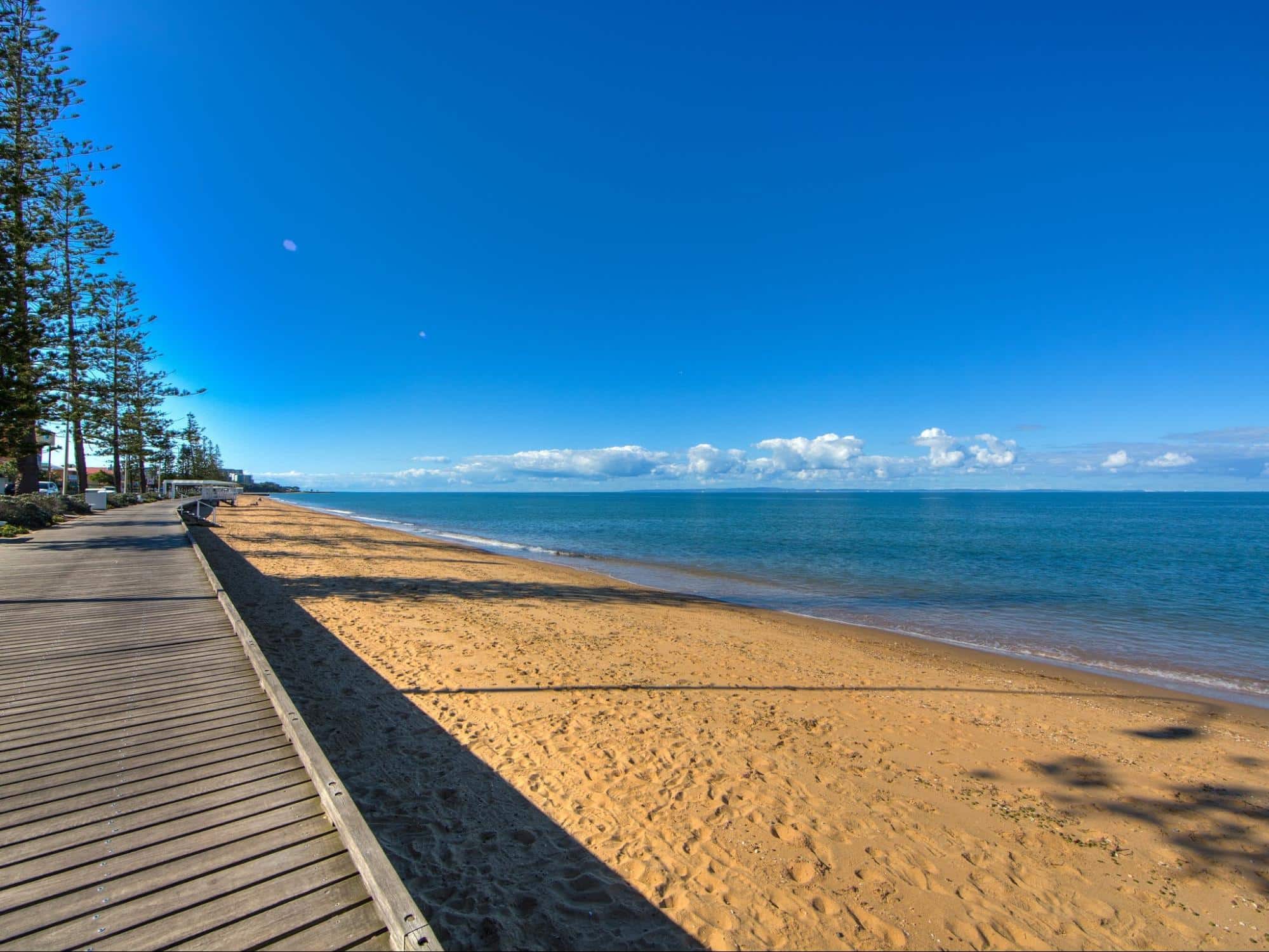 Image from Visit Brisbane
The Moreton Bay Cycleway is another long bike ride, running 11 kilometres from Scarborough Beach to the Ted Smout Memorial Bridge (Australia's longest bridge at 2.7 kilometres), with the sea beside you for the entire journey. 
Starting from Scarborough Beach car park, you'll pass the iconic Redcliffe Jetty where you can stop for a creamy coffee; Settlement Cove Lagoon with its expansive swimming pool, fountains, and cafes; the awesome old ship wreck of Gayundah, as well as Woody Point Jetty, Crockatt Park, and Pelican Park with its skyful of kites. When you arrive at Ted Smout Bridge for the finish, you can reward yourself with a plate of delicious fish and chips.
The Moreton Bay Cycleway is a shared path that can get busy, so take care as you're riding. Magpies are also known to nest in some sections of the path along the Redcliffe Peninsula, so if you're worried about being swooped, or if you have young kids, you may want to avoid it during swooping season1.
To learn more about the Moreton Bay Cycleway, check out this comprehensive article from their official tourist website.

Brisbane bikeway map—Moreton Bay Cycleway
Cycling in Queensland can be a joy, and Brisbane is no exception. Our city offers superb bike riding for the casual cyclist, with routes winding their way through some of its most beautiful spots. With such a fantastic network of bike paths in Brisbane, and more in development, it may be considered Australia's best city for cycling.
What are you waiting for?
To start your cycling journey with some of the best bikes and equipment in Brisbane, visit Hoffy Cycles at 10 Bowser Pde, Sandgate to check out our fantastic range on offer, or call us on (07) 3269 1213.
Want to discover more awesome bike tracks? Check our comprehensive guide on the Best Bike Tracks In Brisbane.
References
Brisbane Bike Paths | Cycling in Redcliffe

, Visit Moreton Bay Region