Brisbane is fortunate enough to have some amazing bike tracks throughout the city and beyond. Here is a comprehensive list of the best bike tracks in Brisbane, ranging from shorter, kid-friendly bike rides, to harder routes for seasoned cyclists who want a challenge. We also feature inner and outer city rides, as well as a list of the best mountain biking trails.
Let's jump in!
The best bike paths in Brisbane
Brisbane is bursting with short bike tracks, ideal for the casual cyclist. Here are some of the city's best.
Inner city rides
West End to New Farm
Image from Concrete Playground
This riverside path runs 10km from West End to New Farm. It starts at the West End Ferry terminal, and finishes at the southern end of the New Farm Boardwalk, featuring some of Brisbane's most popular spots. This includes the cultural precinct, South Bank, the City Botanic Gardens, Howard Smith Wharves, and New Farm.
The path itself has a small amount of elevation, but nothing too strenuous. It can also get busy around the South Bank and City area, but we recommend going slowly anyway, as there's some beautiful sights along the way.

Brisbane bikeway map—West End to New Farm
Teneriffe Boardwalk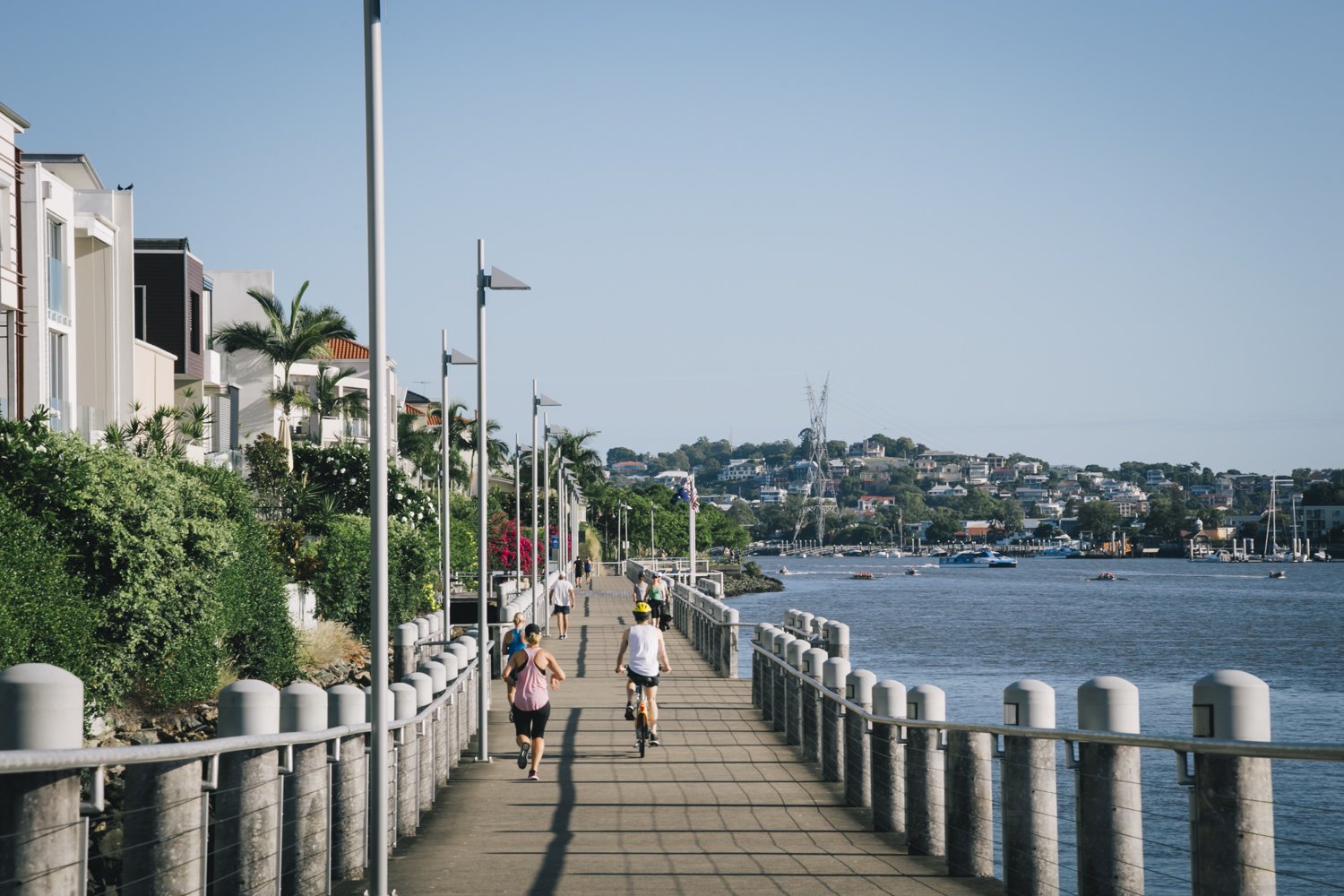 Image from Sitchu
The Teneriffe boardwalk runs roughly 2km along the river, passing the suburb's historic industrial buildings, stylish apartments, and historic WWII landmarks. 
The ride is flat, and perfect if you fancy dropping into a cafe afterwards (there's some corkers). You can also relax in New Farm Park when you're done, and maybe visit the Powerhouse for a drink.

Brisbane bikeway map—Teneriffe to New Farm
Kangaroo Point Bikeway

Image from Locationscout
Kangaroo Point is another iconic Brisbane landmark, and this bikeway circles its entire peninsula, running around 3km and providing direct views of the Story Brisbane and city. The bikeway starts at Dockside Ferry Terminal, and ends at the Kangaroo Point cliffs. 
There's plenty of glorious photo opportunities, as well as places to stop and relax.

Brisbane bikeway map—Kangaroo Point Bikeway
Bicentennial Bikeway

Image from Martin Mergili
The Bicentennial Bikeway runs along the bank of the Brisbane River, starting at the foot of the Goodwill Bridge and going 2.7km to the Regatta Ferry Terminal in Toowong. It offers great views of West End and the City, and is a relatively easy ride.
It's a dedicated bikeway, but be cautious around rush hour because it's one of the city's most popular commuting routes. It's definitely not suitable for kids during these hours.

Brisbane bikeway map—Bicentennial Bikeway
Outer city rides
Manly & Wynnum Esplanade

Image from Chris Jack
The Manly & Wynnum Esplanade is a rough four-kilometre ride (around 40 minutes) along the coastline from Oyster Point in Wynnum, to the esplanade at Manly. It's open, spacious, and packed with cafes. There's also plenty to do along the way, like a seafront water park, a lighthouse, and plenty of wildfire. This one is great for the kids.
It can get a little busy, so you'll need to go nice and slow.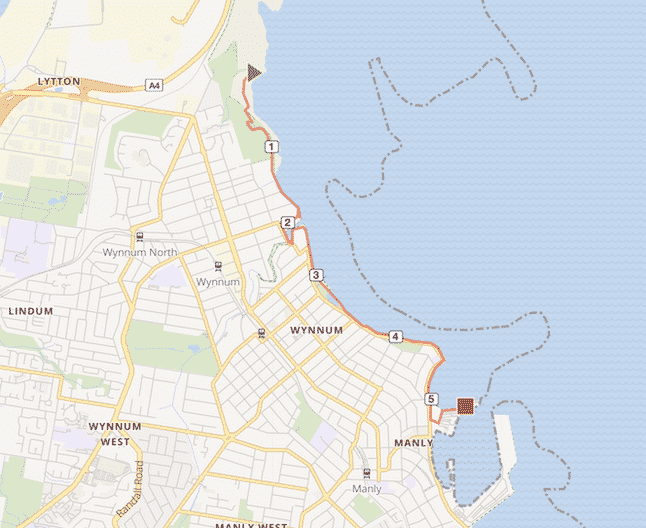 Brisbane bikeway map—Manly & Wynnum Esplanade
Boondall Wetlands Bikeway

Image from Bicycle Queensland
The Boondall Wetlands Bikeway runs for around eight kilometres through pristine marshland and woodland, offering a feast of flora and fauna. This ride is perfect for those who love being out in nature, and you want to factor in plenty of time for stops. There's plenty of shade on the ride, as well it being nice and quiet.
The cycle path starts close to the Nudgee Waste Transfer Station.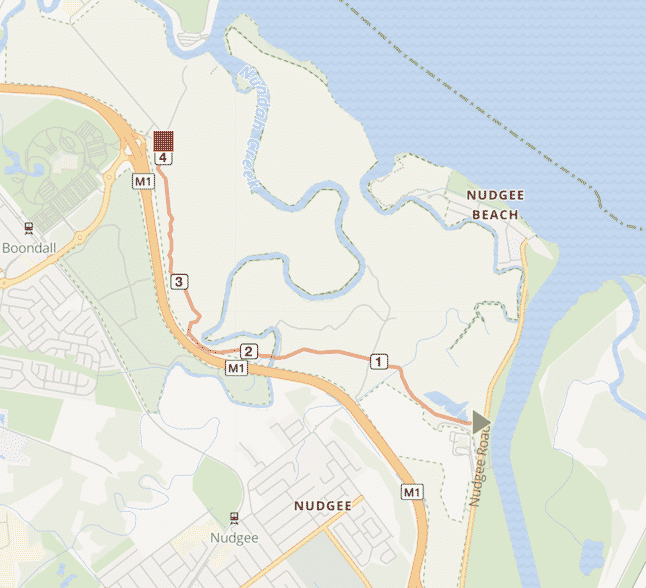 Brisbane bikeway map—Boondall Wetlands Bikeway
Moreton Bay Cycleway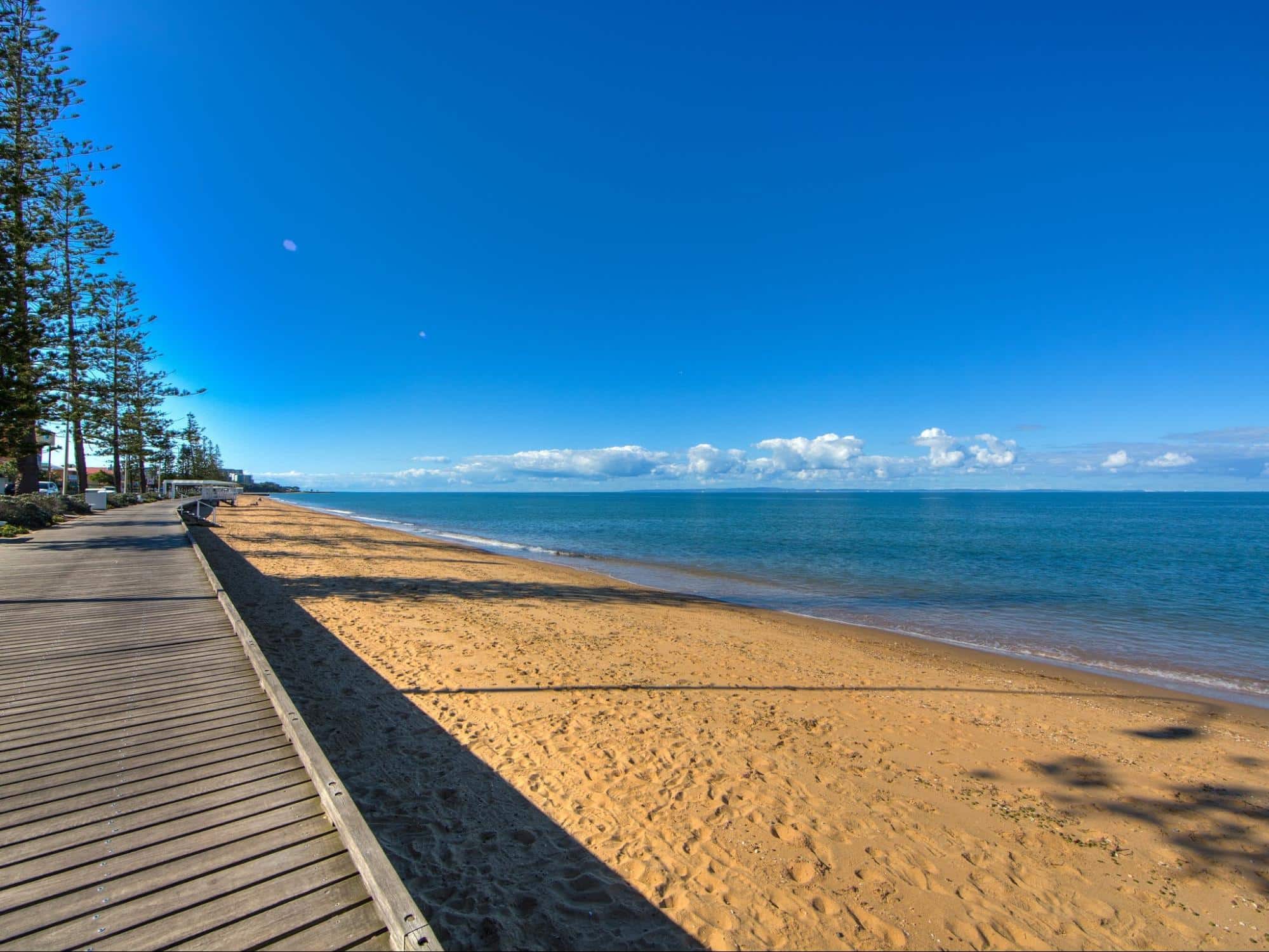 Image from Visit Brisbane
The Moreton Bay Cycleway is a longer 11 kilometre seaside ride from Scarborough Beach to the Ted Smout Memorial Bridge. It starts at Scarborough Beach car park, and passes the iconic Redcliffe Jetty, Settlement Cove Lagoon, the old ship wreck of Gayundah, as well as Woody Point Jetty, Crockatt Park, and Pelican Park. This is one of the most beautiful outer-city bike rides, with plenty to do along the way.
The path is shared with pedestrians, so you'll need to be cautious during the busier hours. 

Brisbane bikeway map—Moreton Bay Cycleway
For more information on each of these rides, check out our article Brisbane Bike Paths | The Best & Most Beautiful.
The best long bike tracks in Brisbane
Being in Australia's subtropical region, Brisbane has some gorgeous cycling spots with lush landscapes and plentiful wildlife. Here are some of the best long bike tracks that Brisbane has to offer.
Kedron Brook Bikeway


Image from Bloke on Bike
The Kedron Brook is a 29-kilometer creek that cuts its way through Brisbane, covering many of its inner city suburbs. A 20-kilometer bikeway runs alongside it (for the most part), starting in the north-western suburb of Mitchelton, and running east to Toombul. It's a mixture of shared pathways, and the odd stretch on-road.
The brook itself boasts towering trees, luscious grassy banks, and plenty of wildlife to admire.
Brisbane River Loop
Image from Bike Citizens
The Brisbane River Loops runs for 35 kilometres around the city, starting in South Bank, hitting Indooroopilly at its halfway point, and then returning. It passes through some of Brisbane's most prestigious suburbs, with a mixture of flat and steep gradients.
Mount Coot-tha Loop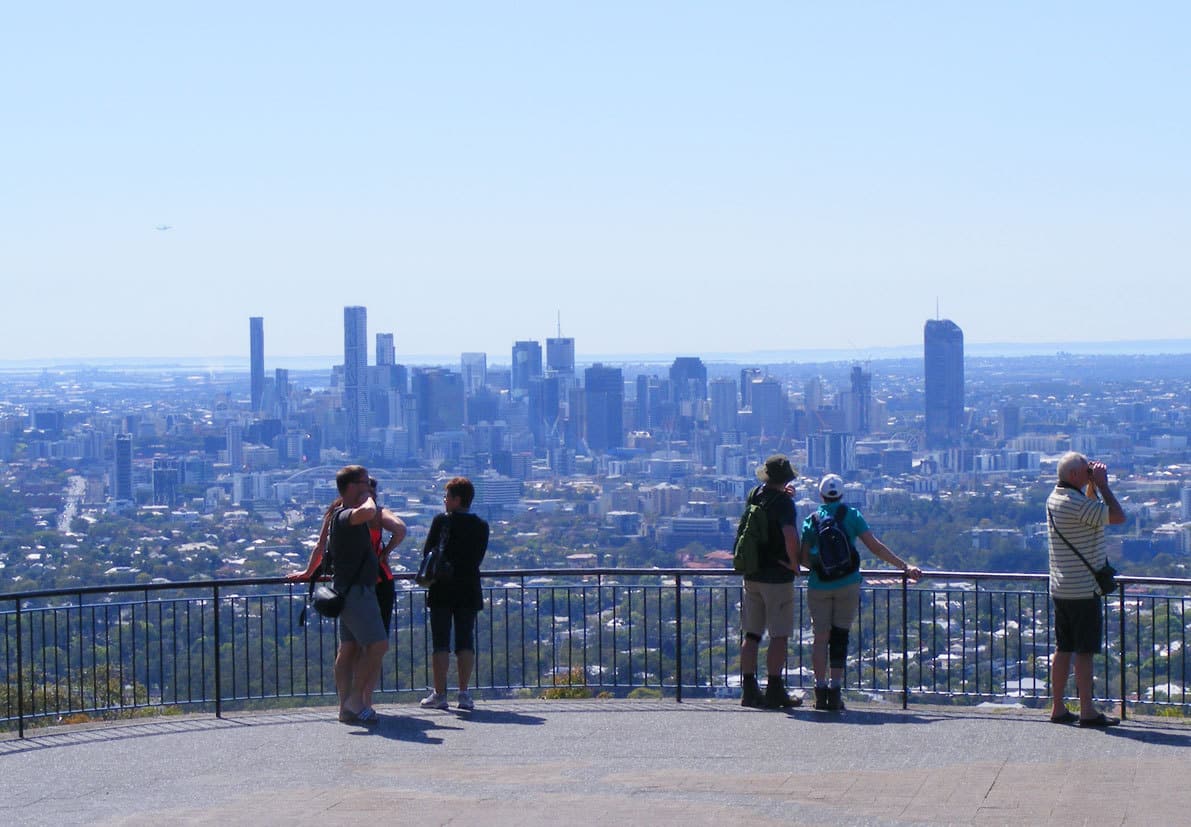 Image from Weekend Notes
The "Coot-tha Loop" tackles Brisbane's tallest mountain. It starts at Sir Samuel Griffith Drive at the foot of the mountain, goes up to the summit, and then plunges back down. 
This one requires some solid fitness. As a reward for reaching the top, you can grab yourself a coffee and something delicious to celebrate your success.
Brisbane Valley Rail Trail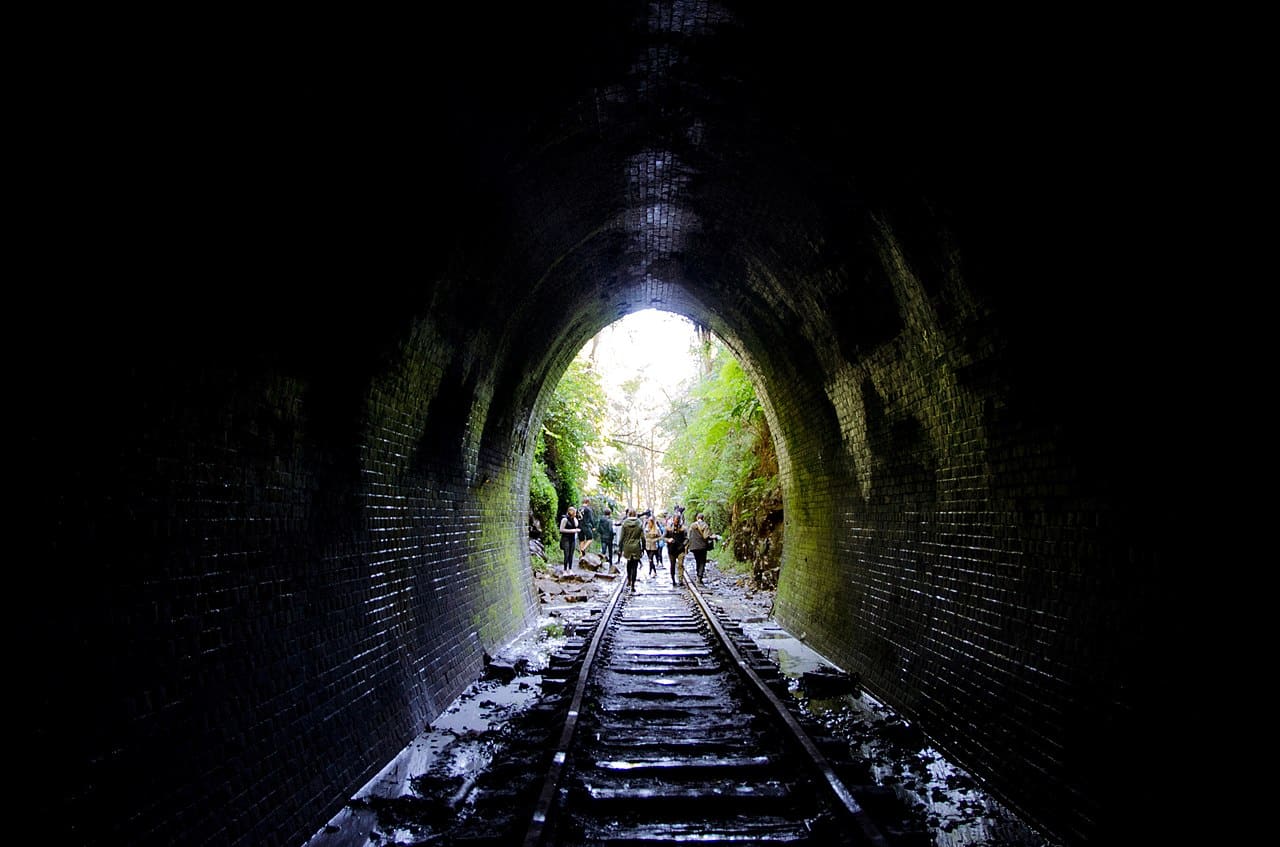 Image from Wikiwand
The out-of-service Brisbane Valley Rail line connected Ipswich to the upper Brisbane River Valley, meandering its way around hills and gullies. Today, it serves as a beautiful and gargantuan 161-kilometer trail, split into separate bike trails such as Fernvale to Lowood, Toogoolawah to Moore, and Linville to Blackbutt. It also features the iconic Yimbun Railway Tunnel (shown above).
For more information on each of these tracks, check out our article The Best Long Bike Tracks In Brisbane.
The best mountain bike trails in Brisbane
Brisbane is beset by low-level mountain ranges, which provide mountain bikers with some awesome bike trails. Here are some of the best.
1. Ironbark Gully

Image from Australian Mountain Bike
Ironbark Gully (also known as the Samford Conservation Park) is a great trail for entry-level mountain bikers. Most trails throughout the gully are rated as easy, with the Ironbark Circuit just a kilometre long.
The gully is just a 30-minute drive from the City, so easily accessible. There's also plenty of picnic tablets and toilets, if you want to stop for a little longer.
2. Gap Creek in Mount Coot-Tha

Image from For the Riders
Gap Creek is located in the gorgeous D'Aguilar National Park, and its mountain bike trails are made up of 23.5 kilometres of downhill runs, sharp descents, and rocky outcrops. It's definitely suited to more experienced riders, who can take on its challenges.
The trails are technically in the Gap Creek Reserve, which is a 25-minute drive from the city. The trails themselves vary from 750 meters to over 2 kilometres. The toughest track is the Pipeline—an entirely downhill ride that includes an 180 degree wall-ride berm, log rollovers, and sheer drop-offs.
3. Bunyaville

Image from Bicycle Queensland
Bunyaville Conservation Park is one of the closer mountain bike trails to the city—just a 20-minute drive. It has 30 kilometres of trails, varying across all skill levels—something for everyone! If you're a skilled rider, you'll want to try the Black Diamond Tracks.
There's also some gorgeous lakes to swim in, and superb seafood at Fish Lips restaurant.
4. Bayview Conservation Park

Image from MarathonMTB.com
Bayview Conservation Park is one of the most popular mountain bike spots near Brisbane. It's a collection of entry level to intermediate cross-country trails, and is located about 45-minutes from the Brisbane CBD. 
Every track has a maintenance post to keep people safe, which makes it a great destination to take the kids. There's also an annual event called the Bayview Blast where mountain biking enthusiasts get together for a thrilling race.
5. Daisy Hill

Image from Bicycle Queensland
Daisy Hill is another great spot for mountain bikers of all levels. There's trails with adrenaline-pumping plummets, as well as nice and easy stretches where you can take it slow. There's also hikes, bushwalks, and plenty of nature to feast your eyes on.
Daisy Hill is only 20-minutes from the city, but it's a good idea to spend most of the day there because there's so much to do.
6. Hidden Vale Adventure Park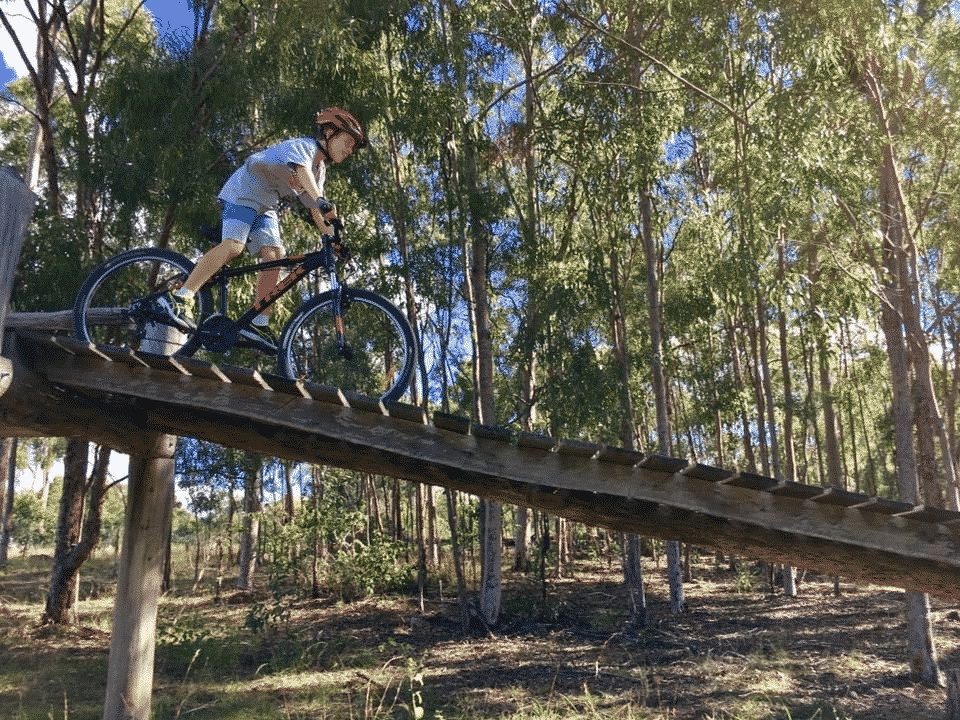 Image from WeekendNotes
Hidden Vale Adventure Park is a beast, with 50km of mountain bike trails to enjoy. There's tons of wooden ramps too, which add an extra element of fun to the trails.
You can also hike, run, camp, or hire one of their eco-cabins or luxurious cottages. And given that the park is about an hour's drive from Brisbane, you might want to spend the weekend there. 
7. Lake Wyaralong

Image from Bicycle Queensland
Lake Wyaralong is another mountain biking spot that's a while away (roughly an hour), but is packed with awesome trails and even better scenery. The trail has 25-kilometres of event standard mountain bike tracks, which range from beginner to Black Diamond levels.
There's also a private shuttle service that'll take you to the top of the mountain, if you're willing to pay for it.
Aside from mountain biking, you can have a picnic, barbecue, go horse-riding, and let your kids loose in the playgrounds. On the water, you can boat, row, and fish. We highly recommend spending the weekend here!
8. Castlehill Trails – Ipswich

Image from Brakes Wide Open
The Castlehill Trails are technically in Ipswich, but are so good (and so close—a 30 minute a drive) that they're definitely worthy of our list. It offers both mountain and cross-country options, ranging from 300 metre to 1.1km lengths, across a range of skill levels. Plenty to keep you busy!
You can also explore the history of the local coal mining industry, including open mine tunnels, hand-dug mine shafts, and more.
9. Cornubia Forest Park 

Image from Bicycle Queensland
Daisy Hill's mountain bike trails are about half an hour south of Brisbane, and feature 18 cross-country trails over 14 kilometres. The trails are mostly dirt and rocks, and suitable for intermediate to advanced riders.
If you're a coffee-drinker, you might want to caffeinate yourself at the delicious Est Espresso Bar.
10. Underwood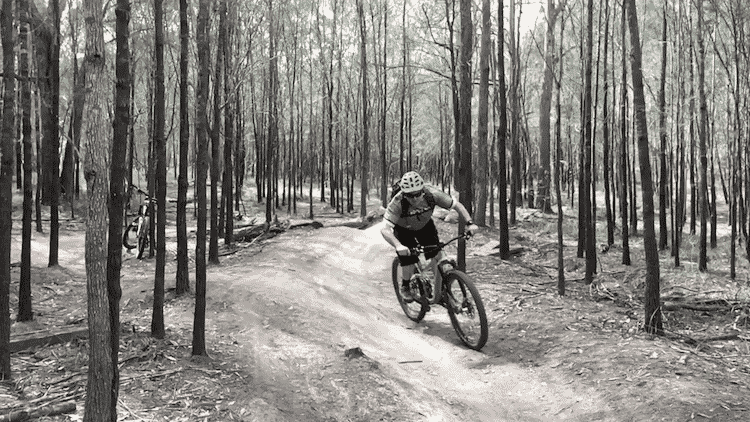 Image from YouTube
Underwood is close to the trails at Daisy Hill, but has much easier trails, so is a great place to brush up on your skills. It's a fairly small park of about 7 to 8 kilometres, and tends to be less crowded. And as a short 25-minute drive, it's definitely worth a look.
For more information on each of these trails, check out our article on the 10 Top Brisbane Mountain Bike Trails For All Skill Levels.