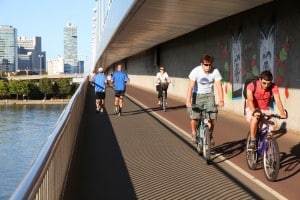 A commuter bike is any kind of bicycle that is used for everyday activities such as riding to school or work, or as an alternative to using a car for transport. Riders may choose to switch to a commuter bike to lower their carbon footprint or for exercise or fitness – and with the cost of parking and public transport in Brisbane, purchasing a bike might be a more affordable solution. The most popular models are those that combine road and mountain bike design to create a model that is fast, strong and comfortable.

When picking a commuter bike, you should look for:
a strong frame that can take the stress of everyday use,
a comfortable, upright riding position,
strong wheels with lots of spoke to support any extra weight you'll be carrying,
wide, puncture resistant tyres, and
racks for your gear.
Some common materials used for making commuter bikes include:
carbon fibre, a stiff, lightweight material. As a non-metal, carbon fibre can be moulded into aerodynamic shapes. It is also a more affordable material.
steel , a strong and durable material that is easy to repair. Steel bikes are also on the more affordable end of the cost scale.
titanium, a lightweight material that makes for a smooth ride. Titanium has inherent flex, so rides don't feel the heavy surface vibration common with other materials.
aluminium, a lightweight and strong material. However, the lack of shock absorption can result in a rough ride.
What are some of the best styles of bike for commuting?
Race
Race bikes are light and fast, making them a convenient choice for city streets. Their skinny tyres and wheels will make a long commute pass in the blink of an eye, but it also makes this style of bike more vulnerable to damage from potholes and kerbs.
Mountain bike
Mountain bikes are a popular and versatile choice. Their upright riding position and sturdy frames have won them fans with riders, while the knobby tyres can be used in a variety of different riding conditions. The only downside is that they can be heavy and slow on bitumen.
Tourer
Tourers are the most practical type of commuter bike, with features including luggage racks, mudguards and tyres that are fatter and tougher than road bikes. The seat position is also more upright, which gives you a better line of vision in traffic.
Fixed gear
The minimalist fixed design is copied from track racers, which makes them ultra fast and definitely not for beginners. The mark of a true fixed gear bike is no freewheel, so riders have to pedal when they're moving. This lends a degree of control that no other style of commuter bike can afford.
Check out our range of commuter bikes by visiting our Brisbane store at 10 Bowser Pde Sandgate today! Or you can visit our website and send us an online request for all you bike queries.