Are you spending your commute on overcrowded public transport? Or worse, wasting precious time sitting in bumper-to-bumper traffic knowing full well you'll probably be running late at the end of it? If the answer is yes, why not consider riding to work instead? You'll not only save time, money and gain fitness, but you'll also have a whole lot of fun on the way! So if you're wondering how to start commuting by bike, here is our guide to putting your pedal to the metal!
Choose the right commuter bike
If you are contemplating commuting on a bike to work, you'll need a bike that can get you there as swiftly and safely as possible. Therefore it should be durable, lightweight, require minimal maintenance and suit various terrains and weather conditions.
A range of gears will facilitate a smoother ride, mudguards are handy in wet conditions, and front suspension and a suspension seat post are ideal additions for a comfortable ride. It's also worth considering customising your bike with a pannier rack to carry all your work essentials.
And, of course, choosing the right size bike is vital. Not only for overall comfort but to reduce injury and prevent long-term wear and tear on your body. Essentially, you will need to know your height and inseam measurements and understand how bike sizes are measured. This is why we always recommend a professional to help you choose the right bike fit before you make the investment!
Types of commuter bikes
Bikes come in a wide range of styles, and some are more suited to city commuting than others. Ones we'd recommend you consider are:
Hybrid bikes
These are typically a mix of several types of bikes and are also known as "commuter" or "urban bikes". They have a comfortable saddle and are designed for speed and control. They have sturdy parts and frames, so baskets, bike racks and panniers can be easily attached. The versatile design of a hybrid bicycle also provides you with the ability to ride on multiple types of terrain.
Cruiser bikes
Often referred to as "retro" bikes, these have an upright riding position ensuring a comfortable and relaxed ride. They are easy to maintain because of their basic gearing and sturdy frames, and again, baskets and rear racks are easily fitted.
Electric bikes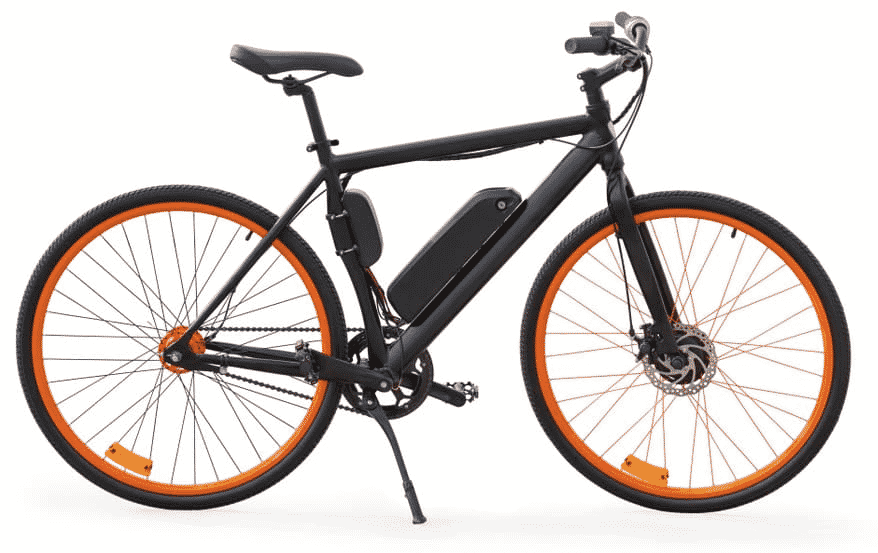 Also known as "eBikes", these are ideal if your commute is longer or hillier, as this bike style is fitted with an electric motor. However, they are heavier than other bikes, the battery needs to be charged regularly, and you can only legally reach a speed of 25 kilometres an hour (after that, they switch off).
Folding bikes
The ultimate in convenience, folding bikes are super-compact and, as their name suggests, fold up for easy storage and transportability. They typically have smaller wheels for faster acceleration, a comfortable riding position and great manoeuvrability in slow-moving traffic. They are also an excellent choice for those that want to complete part of their commute on public transport.
Have the right gear
Helmet
Wearing a helmet when riding a bike is mandatory in the majority of Australian states. In Queensland, whether you ride a bike or an electric-powered wheeled recreational device, you must wear a securely-fastened Australian Standard (AS) approved bicycle helmet that complies with AS 2063 or AS/NZS 2063.
For improved safety, it is also legal to attach a camera to your bicycle helmet as long as it is an approved attachment according to your helmet manufacturer. A mirror that can be attached to your helmet or handlebar is also worth considering.
Lights
Whenever you ride, your bike must have at least one working brake and a working horn, bell or similar warning device. If you ride at night or in weather that makes it difficult to see, you must display (either on your or your bicycle):
A white light (steady or flashing) that can be clearly seen at least 200 metres from the front of your bike.
A red light (steady or flashing) that can be clearly seen at least 200 metres from the back of your bike.
A red reflector that can be clearly seen at least 50 metres from behind your bike when a vehicle's headlights shine on it.
Bike lock
Unfortunately, no single bike lock is unbreakable. However, choosing a quality version will deter a bike thief and/or make it a lot more challenging for them to steal it. Two different locks that are different in style and key/lock-cylinder types are recommended, as often a thief that's adept at picking a certain type of lock (and has the right tools to do it) is less likely to be able to pick a completely different type.
Spare tube and patch kit
Flat tyres are an unfortunate (but easily fixable) part of bike riding, so you should carry a spare inner tube as well as the tools you need to replace it. This may depend on the type of bike you have, but these typically include a bike pump, a multi-tool and a couple of tyre levers.
Clothing
If you have a short or flat commute, your clothing choice can be as easy as a comfy top and lightweight pants (unless your commute is so short you don't need to change when you get to work!) If the weather is overly hot, cold or wet, wicking thermal wear, padded shorts or tights, a wind jacket, visibility vest, gloves, buff, eye protection, cycling socks, and a quick-dry towel can all make your ride more comfortable. And don't forget to stay hydrated — either with a water bottle or hydration pack.
Storage options
Depending on how long and challenging your commute is and the set-up of your bike, there are a range of storage options that will keep your gear safe while you're on the road. Options include a:
Backpack, waist pack or hydration pack
Messenger (sling) bag
Saddle (under-seat) bag
Handlebar bag
Frame/bento bags
Cargo rack
Panniers
Check your bike before riding
Before you hit the road, it's essential your bike is in good working order. This includes checking the saddle, brakes, gears, chain, bottom bracket, handlebars, forks and frame, tyres, the front wheel and the lights. Here is a handy guide.
Plan your route
Preparation is key, particularly if you're new to commuting. There are a variety of options to help you plan a bike-friendly route, and knowing the benefits and limitations of each will make your experience a lot easier and stress-free! You can choose to stick to bike paths, ride on roads if you are a bit more experienced, or combine a combination of the two.
If your commute is on the longer side and you are new to the experience, riding for only a portion of your journey is also worth considering. You can drive part-way, park and then swap to your bike, or ride to your local train station and then ride your bike from there on the way home. Doing your research on the appropriate bike parking or storage facilities and ensuring you have a decent bike lock will also ensure your two-wheeled friend remains safe and sound.
Journey planner apps can help you find a cycling route that's right for you, but of course, it depends on where you live and where you're travelling to, but a couple to consider are:
This has a handy app that recommends routes for getting from A to B on two wheels and estimates ride times and elevation for your chosen route. You just load the app onto your phone, search for the route or area you are interested in, click on the "Map Type" symbol near the top right corner of the screen and then select "Cycling" under the "Map Details".
Strava is targeted at runners and cyclists, and its route builder (that is available with a paid subscription) is a handy tool for commuters looking for bike-friendly options, and recommendations are based on the most popular routes taken by other users.
You simply select your start and finish location, and the app will draw a suggested route you can save to your profile for future reference. You can also set multiple markers along the route if you already have a rough idea of the route you might take. Your estimated "moving" time is calculated by your four-week average speed, and if you want to avoid hills, use the elevation profile.
It also has a handy "Global Heatmap" tool that gives you insights into where most people are riding, so if you're a new rider, you can use this in conjunction with a separate map of dedicated cycling trails to find a route that you are comfortable with.
Know the road rules
Road rules keep all those commuting by bike, as well as pedestrians, safe, and they vary by state. You can find out more about the rules for "wheeled devices" in Queensland here.
References