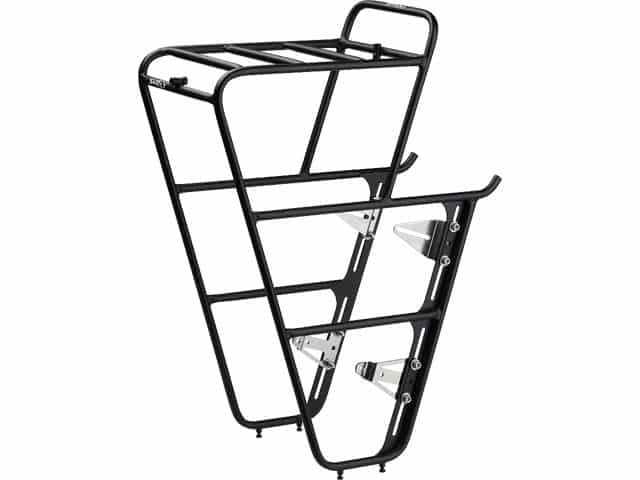 SURLY – 'FRONT RACK' (BLACK)
$229.00
In Stock: 1 available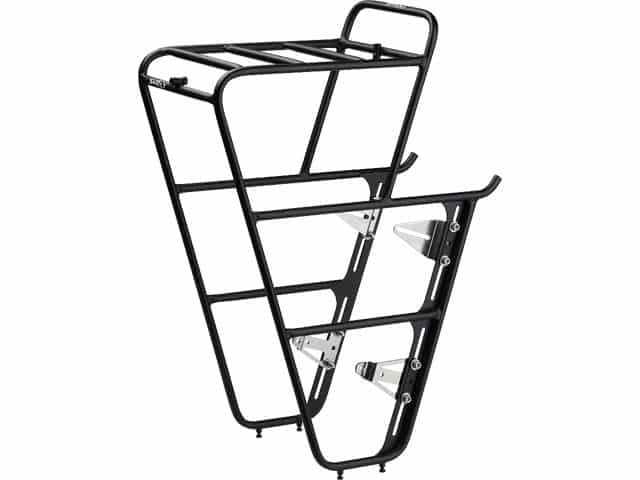 Surly Rack
Surly Racks are well-thought-out, durable, expedition-worthy racks that work with most panniers. While our racks aren't limited solely to heavy duty touring, that is what they were designed for.
Repairability should be a consideration for any product that will be used in every extreme, which is why the main body of our Racks is made of tubular CroMoly steel. In the rare instance that the Rack breaks, you should be able to find, even in the most remote regions of planet Earth, somebody to TIG, MIG, stickweld, braze or solder a Surly Rack back together. An aluminum rack won't afford you the same luxury. The Racks' hardware is stainless steel.
Our height-adjustable front Rack is a lowrider/highrider design. Panniers mounted in the lowrider position provide a more stable ride, but can be a burden when riding rocky or rutted roads and trails. The upper rails provide an alternate pannier mounting position for these types of conditions. The platform above the wheel provides extra space to lash on more stuff. The front Rack mounts directly to forks equipped with a midblade eyelet, located approximately 165mm from the dropout eyelet. This is a standard eyelet location found on many touring-specific forks, including our Long Haul Trucker fork. We also provide hardware to securely mount a Surly Rack on forks that do not have a midblade eyelet…which means you can mount it on almost any rigid fork, providing there is nothing in the way.
The rear Rack is also height-adjustable, enabling it to fit a wide variety wheel sizes while allowing you to move its center of gravity as low as possible for a more stable ride. Its wide platform has plenty of room for rack trunks, sleeping bags, tents, boxes of lima beans, or small cages full of hamsters. The stainless steel hardware we provide will enable you to fit them to most rigid 26″ and 700c frames, and to forks equipped with drum, caliper, or cantilever brakes. Disc brakes and suspension are generally not compatible with our rear Racks, though there is an increasing number of frames designed to allow the use of racks and disc brakes.
Our front and rear racks WILL work with disc brakes on our Troll, Ogre, and Disc Trucker frames. This is accomplished by moving the rear caliper inside the rear triangle. That's a good thing – even if it does limit you to a 160mm rotor back there. The front rack will also work on these frames. It may take a bit of work to get clearance around the front caliper since the many different calipers out there are many different shapes. Generally, you'll need to throw a washer or three behind the lower left bolt where the plate attaches to the fork dropout. You may also have to grind or hacksaw a bit of the lower left plate to make things fit. There are three bolts that attach the plate to the rack. If you have to drop that down to two, you're still ok.
Color: Black or Silver
Front Rack specifications:
Tubing diameter: 10mm
Platform dimensions: 230 x 170mm
Weight: 1382g